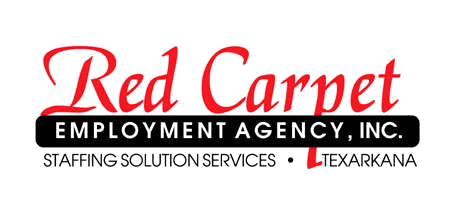 Red Carpet Employment Agency
Arkansas
Staffing, Temporary, Temp To Perm

Excerpt
A full service staffing firm in business since 1993 offering temporary staffing.

Company Description
In business since 1993 offering "temporary staffing solutions" to all types of employers. Additionally RCEA can assist applicants with interviewing, training, resume preparation, and "first impression" recommendations. These services are customarily "no charge" to the applicants as long as the applicant is using these tools to acquire jobs through our firm..
We Have a dedicated team of professionals
RCEA is a team of staffing professionals dedicated to serving our clients with the highest levels of quality, integrity and service. We are client-focused, dedicated to gaining a clear understanding of your specific staffing requirements and objectives before proceeding with any placement. We are also outcome-centric, approaching each project with the client's end goal in mind.
We Offer a Personalized 1:1 staffing solution
Our firm works closely with its client companies to remain flexible in achieving the mutually shared team goal of procuring the "right" employment candidates for the needs of the client. ONE reason we're capable of this flexible structure is that we're an independent firm rather than being part of an inflexible corporate structure. Many of our corporate clients appreciate this ability in contrast to the sometimes rigid situations they customarily endure.
Phone Number: (870) 772-4039
Full Address: 221 Laurel St, Texarkana, AR 71854, USA
Red Carpet Employment Agency Reviews