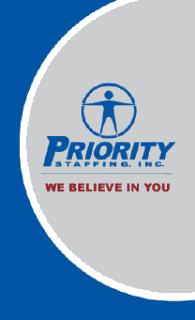 Priority Staffing, Inc
Allentown, Philadelphia, Collegeville, Montgomeryville

Excerpt
The principals of Priority Staffing, Inc., have over 30 years of work and management experience in manufacturing and general industrial environments and 17 years of experience in providing temporary and permanent staffing to businesses in their community.

Company Description
About Us
Why Use Us
In providing temporary/flexible staffing services, we accept the burden of recruiting, hiring and paying employees including taxes, workers' compensation and benefits. This allows you the customer, to focus on your core activities and to reduce your overall costs of personnel, allowing the flexibility you need in today's environment.

The cost of recruiting, training, turnover, and worker comp claims can amount to as much as $10,000 or more for an entry-level employee. By using our temp-to-hire solution, you get a chance to evaluate a person's skills and attitude before making the commitment to hire full-time.

By partnering with our customers to provide temporary and temp-to-hire employees, we understand the culture and specific needs of each company. This allows us to be much more effective in selecting good candidates for your permanent hiring needs.
Phone Number: 215-997-0935
Priority Staffing, Inc Reviews